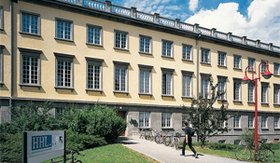 Apply for a Master of Science or a MBA-Program at one of the leading management institutions in Germany.
Das Studium
Angebotene Studienprogramme und Schwerpunkte
M.Sc. Program in Management (full-time and part-time)
MBA in General Management (full-time and part-time) with focus on leadership and international experience
Global Executive MBA
Inhalte des Studiums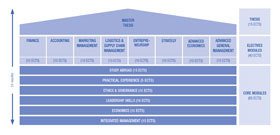 HHL's M.Sc. program contains a broad spectrum of management-related topics that will enable you to develop solution strategies for a variety of problems that may arise in different fields of business. You will find that our practice-oriented academic education is ideally suited to the challenges faced by global businesses. Furthermore, we are strongly focused on the individual needs of our students. Our graduates confirm the success of our concept with their achievements.
The curriculum of the MBA program is structured into the following major parts: Core Modules, Elective Modules and a Master thesis. The full-time MBA program is designed as an up to 18 months program; this corresponds to six terms. Core- and elective modules are offered during term one to four. During the fifth term you have the option to do an internship or exchange term, while the sixth term focuses entirely on your master thesis.
The curriculum of the part-time MBA program is structured into four major parts: Core Modules, Elective Modules, the Global Immersion Seminar and your Master Thesis. The two-year program comprises 90 ECTS credit points in total. Supplementary to your MBA courses, company visits will lead you during your stay at HHL to different places in Germany discovering interesting business models, current management procedures and networking opportunities.
The Global Executive MBA program is a joint program with EADA Business School in Barcelona. Courses take place during 10 residential weeks at HHL, EADA as well as at top ranked partner universities in Brazil, China and India. The program starts in October and takes 18 month.
Ablauf des Studiums
We cater to your personal time constraints by offering various program designs. Whether you want to finish your studies in a very short space of time – or choose to complete additional internships – decide for yourself and select the model that works best for your individual career planning. Our part-time programs are suited for students who work full-time. Classes take place on weekends over the course of 24 months.
Austauschprogramme, Praktika
In order to keep abreast with current international, social and economic challenges, our students will spend one term abroad. The learning experience focuses on the methods of working and the way of life in foreign cultures. The courses taken abroad will be part of the student's performance record and are given equal value considering the overall grades at HHL. Within the double degree option it is also possible to earn an additional degree at selected partner universities.
Die Studentenschaft und Dozenten
Anzahl Dozenten

13 full-time professors

Mögliche Abschlüsse
Jahrgangsgröße

40; part-time 30-35

Gesamtzahl Studierende

Gesamtzahl der Studierenden

400

Durchschnittsalter Studierende

24 among the Master students
29 among the MBA students (35 in the part-time program)
Studentenschaft
The variety of our students will give you an understanding of your future workplace: the globe. Especially in the MBA program students will come from all over of the world, having earned academic degrees and gained practical experience in diverse fields such as business, architecture, communications, education, engineering, geography, history, IT, law, linguistics, medicine, music or psychology.
Erfahrungsberichte über HHL - Leipzig Graduate School of Management
Campus Insider (Hochschule)

Master (MSc, MA, etc.) in Leipzig, Deutschland
Campus Insider (MBA Studium)

Part-Time MBA in Leipzig, Deutschland

Full-Time MBA in Leipzig, Deutschland
Interview Insider (Zulassungsverfahren Hochschule)